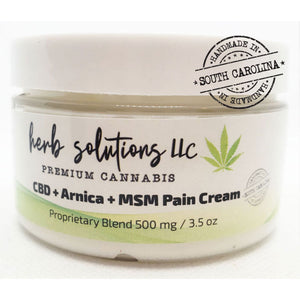 CBD + Arnica + MSM /Mixture of 12 essential oils to give a fresh minty scent (our favorite).
Our cream uses high quality ingredients grown in the USA to provide the best pain
relief. It is a fusion of therapeutic forces that combine our proprietary blend not
only of CBD but also a blend of nutrients found in arnica and MSM along with a
variety of 100% essential oils. Made exclusively in small handmade batches.Store cream at room temperature.  
Ingredients: CBD Isolate, Arnica oil, msm, emulsifying wax, cetearly isononanoate, ceteareth-20, cetearyl alcohol, glycerin, ceteareth-12, cetyl palmitate, lavender oil, peppermint oil, spearmint oil, cedarwood oil, patchouli oil, lavandin oil, orange oil, grapefruit oil, euca;yptus oil, basil oil, tea tree oil, rosemary oil.