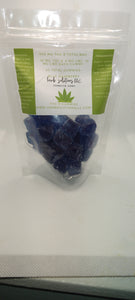 Although Delta 9 THC can be derived from either the marijuana or hemp plant, the Delta 9 THC used in our products is naturally extracted from federally compliant hemp plants. By formulating it with other ingredients, we've made sure that the end product still contains less than 0.3 percent THC. This means that it is fully legal to purchase and try Delta 9 gummies throughout the US.
Delta 9 THC vs CBD
By combining Delta 9 THC and CBD, we've found that CBD actually acts as a buffer between THC and your endocannabinoid system (ECS). 
Delta 9 gummies are also great for anyone who's used our broad spectrum and full spectrum CBD formulas in the past and hasn't experienced their desired results. Each gummy contains 10mg of THC 9, 10mg of CBD and 4mg of CBC. Their are 30 Gummies per bag and they are strawberry mango flavored for a total of 300mg THC 9 , 300mg CBD and 120mg of CBC.